Introduction to E-commerce
E-commerce is electronic commerce or internet commerce which involves buying and selling of goods and services via the medium of internet and any digital platform. E-commerce has predominantly impacted the modern business era, forcing every businesses to use electronic medium in their operations. All the market leading businesses, we see today, are e-commerce businesses.
The e-commerce industry has a booming growth rate of 23%.In, the retail e-commerce sales was worth USD 4.28 trillion world wide. By 2040, 95% of all purchases will be through e-commerce. E-Commerce is the next big thing in the business world.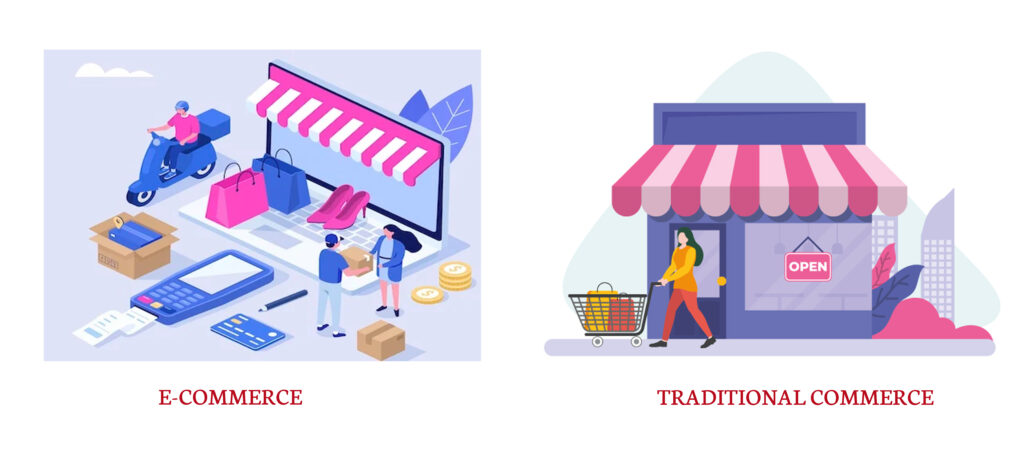 Types of E-commerce Business Model
When someone is planning to start a e-commerce business, it is most probable that it will fall under one of the following categories of e-commerce business model. Every business model has its benefits and challenges and requires different approach to business. The four general e-commerce model are;
B2C (Business to Consumer)
B2B (Business to Business)
C2B (Consumer to Business)
C2C (Consumer to Business)
B2C (Business to Consumer)
It is one of the most common business model where businesses sell their products to consumers i.e. end users. Anything an individual buys online as a consumer is B2C business model. The benefit of B2C is that consumer are aware of the product and purchasing decision is much easier when compared to other business model. Consumer browse the product online, do all the comparison online and make purchase decision, completing the payment process.
Today, B2C involves a higher volume of consumer engagement and is leading the retailing industry. Some of the B2C ecommerce are Apple, Amazon, Dell, Netflix, Walmart etc.
Characteristics of B2C Business model
B2C ecommerce requires heavy investment in advertising and customer.
B2C business model is more personalized, optimized, social and Mobile.
Content Management is backbone this business model.
Audience is the major asset to business houses
Business is product driven i.e. product drives the customers.
B2B (Business to Consumer)
In this business model, both the customers and the suppliers are the business organizations. A business is selling products or services to another businesses. Transactions are conducted between wholesalers and online retailers and both are benefited from the transaction. B2B businesses have an expected CAGR 18.7% from 2021 to 2028 and is expected to reach USD26.65 trillion business by 2028.
Characteristics of B2B Business Model
There are multiple decision makers i.e. hierarchy of command in an organization.
Business decision making requires longer decision cycle.
Businesses provides customer-specific discounts to corporate clients.
B2B involves international business participants i.e. cross-border activities.
C2C (Consumer to Consumer)
C2C e-commerce is a type of trade relations where both sellers and buyers are consumers, not businesses. In this model, consumers initiate the transactions matching the need of seller and buyers. C2C e-commerce reduces the role of middlemen in such C2C transaction. In C2C platform, vendor sell their products on the sire and buyers purchase what they want. C2C e-commerce benefit from the commission fee or transaction fee during the transaction.
Characteristics of C2C Business Model
C2C has low transaction cost.
C2C has a larger reach on consumer i.e. both the involved parties are consumers.
This business model minimizes the need of middlemen or intermediaries, making process effective and efficient,
C2C is more dependent on trust and credibility factor than any other business model.
C2B (Consumer to Business)
C2B e-commerce engages consumers as sellers and businesses as buyers. In this business model, transaction takes place between consumers and businesses. In this, consumer quote the price for the product and services they are offering and generally, businesses are their clients. Mostly, C2B includes service based jobs like free-lancing, counseling, influencing etc. In present context, social media has become a market place for C2B business model. All the social media influencers follow C2B business model where companies look for consumers for their expertise and influencing.
Characteristics of C2B Business Model
In C2B, consumer define the value for the products or service they provide.
C2B involves personalized marketing approach i.e. consumer can define the circumstance and exposure to marketing.
This business model is creative, customized and flexible with regards to production.
Value is created by consumers.
Importance of E-commerce
E-commerce challenges the traditional geographical problems to business, making business accessible from any part of the world.
E-commerce has lower cost than traditional shopping and selling i.e. low operational cost. It is beneficial to both seller and buyers.
E-commerce is more customer-centric, making customer satisfaction and experience its primary concern.
Online business is less time consuming, more transparent, more reach business.
E-business is scalable and has a potential of worldly growth.
E-commerce makes consumer aware of trends and situations of other markets i.e. consumer awareness.
Considerations for a Strong E-Commerce Product Strategy
References